Clinic Dog & Food Critic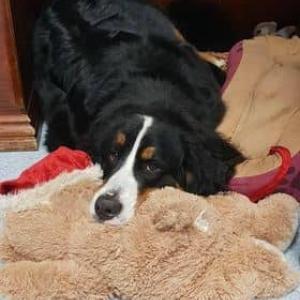 Hey! I'm Heidi, the Big Beautiful Bernese Mountain Dog at the clinic.
I've been told I have big shoes to fill with Holly being my predecessor. She was a very special Berner from what I hear, and loved by absolutely everyone!
I'm still a bit of a puppy, but if you can believe it I weigh over 48kg already!
I love coming to the clinic, and occasionally going to daycare at the local pet resort. I love to meet new people, and give them my special greeting of sitting on their feet. I always get so excited when people visit and ask to meet me in person, it makes me feel so special and loved.
I have some extremely important roles in the clinic. Sometimes I donate blood to save pets who need blood transfusions when they are very sick. One of my favourite things to do is sit with and offer cuddles to grieving families preparing their pet for their adventure over the rainbow bridge. I like to rest my head on people's laps and let them cuddle me closely to feel better.
My other favourite hobbies are;
-Eating
-Cuddling my favourite teddy
-Eating MY food
-Playing with puppies visiting the clinic
-Eating the cats' food
-Wrestling with Belle
-Eating any food I can get my paws on
-Sharing staff lunches; with or without their knowledge
-Eating things that aren't food