Registered Veterinary Nurse & Practice Manager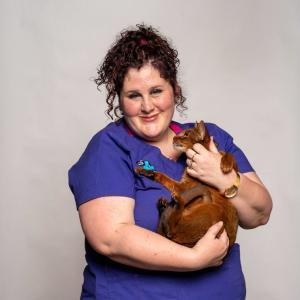 I have been working with Dr Mark Sayer for the last 16 years and every moment within the job has been amazing! Working in Mark's team has been full of wonderful memories and experiences. I have worked in all of our clinics over the duration of my employment, firstly in Wagga, then managing Corowa and now in Griffith. I am pleased to be back in my home town again after leaving about 11 years ago, and it's so nice to be close to family and old friends.
Veterinary nursing is such a wonderful profession and there are so many rewarding aspects of the job. I am blessed to be doing something I love every single day! Caring for pets is so rewarding, and meeting their owners is equally so. I'm always thrilled to meet loving pet owners, and to offer assistance and peace of mind through pet care.
I am also a keen advocate of puppy school, which we offer at the clinic. I am very passionate about helping owners get their new puppy started off on the right paw to ensure they grow into well-adjusted and sociable dogs.
When I'm at work I enjoy the company of our clinic cat, the Crazy Calli Cat! Check out her antics in Calli's Corner, her own personal blog. When I'm at home I have the company of four cats of my own; Mishka, Evie, Toulouse and Apollo, and my beautiful Bernese Mountain Dog Heidi.
At the beginning of 2017 my partner and I had our first human baby! Ryan was born on the 11th January 2017, a day before my 28th birthday, and he was best birthday present ever! I love being a mum! Ryan can sometimes be seen at clinic with me 'helping'. He looks to be taking after his mum as he just loves animals, especially his own cat Toulouse. When he is sick or sad we can always cheer him up by watching the cats' funny antics.